FASTFIT FEATURED RECIPE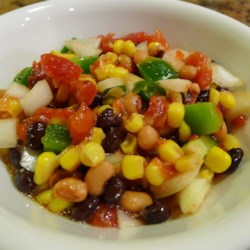 Spicy Bean Salsa

Ingredients 
1 (15 ounce) can black-eyed peas
1 (15 ounce) can black beans, rinsed and drained
1 (15 ounce) can whole kernel corn, drained
1/2 cup chopped onion
1/2 cup chopped green bell pepper
1 (4 ounce) can diced jalapeno peppers
1 (14.5 ounce) can diced tomatoes, drained
1 cup Italian-style salad dressing
1/2 teaspoon garlic salt

Recipe makes 4 cups

Directions
In a medium bowl, combine black-eyed peas, black beans, corn, onion, green bell pepper, jalapeno peppers and tomatoes. Season with Italian-style salad dressing and garlic salt; mix well. Cover, and refrigerate overnight to blend flavors.

Nutrition
Calories155 kcal8%
Carbohydrates20.4 g7%
Cholesterol0 mg0%
Fat6.4 g10%
Fiber4.4 g18%
Protein5 g10%
Sodium949 mg38%

Percent Daily Values are based on a 2,000 calorie diet.